New Cameras And Weather Stations To Aid In Fire Fight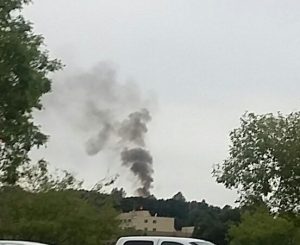 Fire in Sonora near the top of Truckenmiller Road

View Photo
Sonora, CA — PG&E has a new high definition camera installed in Calaveras County, and plans to have multiple weather stations across both Calaveras and Tuolumne counties.
Company spokesperson Brandi Merlo says it is part of the new Community Wildfire Safety Program. The camera in the West Point area is one of 100 planned for this year, statewide. Merlo says, "They allow firefighters, first responders and PG&E to confirm and monitor potential wildfires. This can increase the response time and lessen the destruction of the fire."
The cameras are part of the ALERTWildfire Camera Network, which was developed by UC San Diego, the University of Nevada and the University of Oregon. Calaveras is one of the early areas to receive a camera, and there is an eventual goal of having 600 installed in the state by the year 2022.
PG&E is also planning to have 600 weather stations in place by the end of this year. They will help identify high risk fire weather conditions. PG&E has earlier indicated its intentions to de-energize power lines in times of extreme risk. The weather data will also be shared with agencies like CAL Fire to help firefighters strategize. There will be 15 stations throughout Calaveras County this year and 14 in Tuolumne County.
To read an earlier story about a PG&E open house planned for this evening, related to fire, where you can ask questions, click here.