Update: Calaveras Investigators Seeking Further Public Help In Deadly Vehicle Fire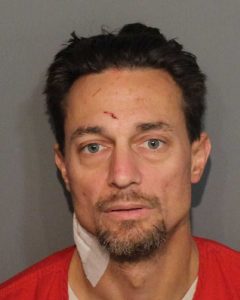 David Joseph Fagundes

View Photos
Update at 4:45 p.m.: Although the cause of death is not being released, Calaveras County Coroner Kevin Raggio tells Clarke Broadcasting that it was a female in her early 40s in the burned out SUV. He adds, "She was burnt beyond recognition. We are not releasing her name at this time because we are still waiting on dental records for a confirmation."
Further details on the case are below:
Original post at 3:30 p.m.: Copperopolis, CA – The public is once again being asked to help investigators gather further information regarding a body that was found in a burned vehicle.
As reported here last month, the vehicle fire happened in the morning of May 29th on Lower Telegraph Road near Highway 4 in the Copperopolis area. While working the scene,  41-year-old David Joseph Fagundes of Washington State, was spotted hiding in some tall grass. He refused to cooperate with Calaveras County Sheriff's Deputies resulting in a standoff that eventually ended when a K-9 unit flushed him out and he was subsequently arrested. At that time, sheriff's officials asked for the public's help in hope of witnesses coming forward with further information.
Investigators are once again turning to the public for assistance. Sgt. Greg Stark asks, "For anybody with any information or with any contact or conversations with persons in or around the red or maroon Chevrolet HHR in or about the Copperopolis area of Upper/Lower Telegraph road and Highway 4 to call us."
The contact is Sergeant Ken Grognet at (209)754-6552.