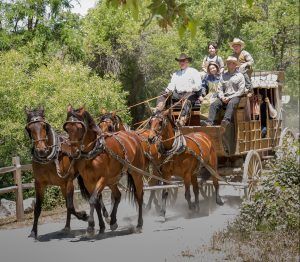 Columbia Diggins

View Photos
As we have covered, this weekend is packed with big events, some new and some annual traditions.
As featured in our events calendar today from 5:30 PM to 7:30 PM is the Front Porch Open House at 905 Mono Way. Front Porch is a local technology and telecommunications company established 20 years ago. They completely remodeled building next to Ride Aide and are inviting the public to view the architecture and art in their building. Front Porch offers a variety of services including the Porch Light, Wi-Fi Monetization, and they have expanded a program used in many local schools and across the country called Get More Math.
Friday evening is the Friday Flix at the Sonora Opera Hall with costumes encouraged the theme and movie is Butch Cassidy and the Sundance Kid. Details are here. At around 6:30 pm, a Stage Coach filled with Columbia Docents from the Columbia Diggins, will roll down Washington Street to the Opera Hall. Columbia Diggins is a four day event that features tent town as history recreated for the public and schoolchildren- today through the 19th. All four days, over 150 costumed volunteers will recreate the daily life of an early gold rush mining camp. Experience first-hand the sights, sounds and smells of 1852 Columbia (or American Camp, as it was first known) and interact with volunteers who portray those early residents as they go about their daily life. Details are here.
The first Old West Fest in downtown Sonora will also feature pedestrians in period costumes, arts, music and more this Saturday from 10:30 AM through 4 PM along Washington Street. Other Old West Fest activities at the Sonora United Methodist Church are listed in the events calendar here.
On Saturday afternoon from 3 through 6 PM, the Old West Fest Sip n' Taste, hosted by Tuolumne County Agriculture Collaboration, will take place at the Sonora Opera Hall. This will be a celebration of local wineries, breweries, restaurants and caterers. Tickets will be available at the door. The proceeds will support the Don Pedro, Sonora & Summerville FFA Chapters.
As detailed in Thursday's KVML "Newsmaker of the Day" the Calaveras Jumping Frog Jubilee began today.
Don't miss performances of Barefoot In The Park at Black Bart Theater in Murphys. Columbia Elementary's 6th thru 8th grade student play has been cancelled as was Twain Heart's A La Carte which has been rescheduled in September due to the weather.
The TPRD Spring Yard Sale, Tuolumne County Relay For Life, and Jamestown's Rods to Rails Carshow are all this Saturday, the full list of Saturday events is here.
Saturday May 18th is also the first day for the Sonora Farmers Market at Theall and Stewart St. in downtown Sonora. The market will be open from 7:30 to 11:30 am every Saturday until October 12th. Vendors who make handcrafted items, sell fresh Ag. (certified) produce and on-site (and commercial kitchen) food items will be there.
Sunday many of the events above continue, the full list of Sunday events is here.