Smoke In The Skies Around Long Barn Not A Wildfire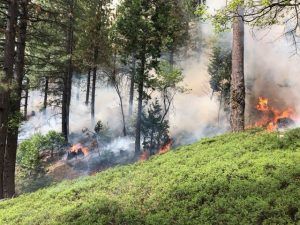 South 108 Underburn in the Mi-Wok Ranger District

View Photos
Sonora, CA — Calls to Clarke Broadcasting reporting heavy smoke in the Long Barn area are the result of an ongoing prescribed burn Stanislaus National Forest officials first alerted the public to last year.
We contacted forest spokesperson Diana Fredlund who detailed that 88 acres were burned today as part of the South 108 Underburn in the Mi-Wok Ranger District. The fire sent smoke billowing into the skies and Fredlund shares what the concern was, "There was some aircraft from Columbia airbase overhead. They were conducting training flights. That combined with the prescribed burn we were doing might have been what people were confused about."
Forest officials had first notified the public of this prescribed burn back in October as first reported here.  The plan is to ignite a total of 350 acres as part of the South 108 Underburn prescribe burn in the Mi-Wok Ranger District that will continue through the spring as conditions allow. The acreage is being divided into five units, ranging in size from 31 to 120 acres.
Fredlund confirms that no burning will be done again in the area until the storm system moving into the region blows through, which could be several weeks.