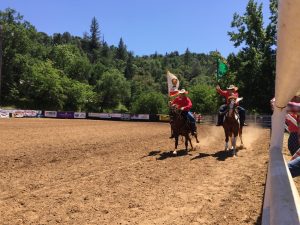 62nd Mother Lode Round-up Rodeo
Sonora, CA — Day two of the Mother Lode Roundup rodeo brings some fancy riding and bronco's bucking.
Mother Nature continues to shine on this Mother's Day weekend and that is packing many rodeo fans into the grandstands. The morning kicks off with some tasty stacks of cakes as the Mother's Day Breakfast at the Mother Lode Fairgrounds in Sonora runs from 8 a.m. to Noon. Then it is the Cowboy Church in the grandstands at 10 a.m. followed by the Kiddie Rodeo at 12:30 p.m.,  and then the main event being the big cowboy's rodeo at 2 p.m. Yesterday, there were fast calves trying to avoid getting roped and horses throwing riders to the delight of the crowd. Check out all the pictures and videos in the image box and right here.
Additionally, many enjoyed the sunny weather in the morning Saturday to cheer on the hot rods, horses, dancers and bands that marched down Washington Street for the 62nd Mother Lode Roundup Parade, and pictures and video can be seen here. For this weekend's Mother Lode Roundup event schedule, click here.