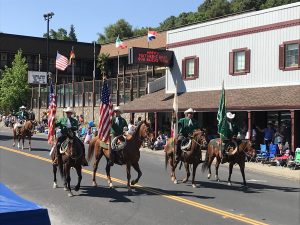 Posse Color Guard Leads Roundup
Sonora, CA — Backflips, dog tricks, prancing horses with cowboys and girls shining in the saddles and colorful floats surrounded in bubbles, all wowed the crowd for the 62nd Mother Lode Round-up Parade.
Plenty of people took advantage of the wonderful weather and lined Washington Street in downtown Sonora. As bands, including Sonora High's "Golden Regiment" (Click for video here) and Summerville High's "Orange Crush," (Click for video here) marched; dance teams showed their skills while hot rod engines roared. The thousands along the route cheered until the very end and laughed to the sight of miniature horses bringing up the rear to close out a spectacular day for all.
But wait; there is more family fun ahead as bucking broncos will amaze those in the Mother Lode Fairground's bleachers. Someone central to the event, J.J. Harrison, a.k.a., the rodeo clown and announcer, shared how it's his job to bring the competitors and the fans together.
"You can feel like you know me at the end of the rodeo. So, a lot of times fans will ask me questions about our contestants. I think that's a great thing because I can either get a contestant over there to talk to them or I can just be that bridge to answer questions to bring that human interest to the fan," remarks Harrison.
For this weekend's Mother Lode Roundup event schedule, click here. Click on the photo box to view pictures of many of the great entries.