Search Nets Hefty Amount Of Meth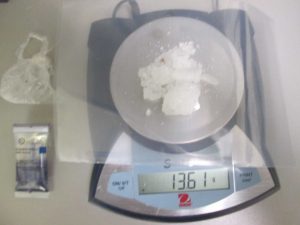 Drugs siezed in bust

View Photos
Tuolumne, CA – A search of a Tuolumne home ended with two arrests and one of the suspects already had an ankle bracelet monitoring his moves.
Tuolumne County Sheriff's High Risk Supervision Team raided the home of 38-year-old Cyrus Cole in Tuolumne on Tuesday.  Cole currently wears an electronic monitor as he is on a Pre-Trial Release on his Own Recognizance (OR) from an earlier burglary bust, reported here. Also arrested at the home was 28-year-old Annastasia White after a search turned up nearly 14 grams of methamphetamine, more than 6 grams of heroin, plastic zip lock bags, a digital scale and drug paraphernalia.
The pair faces possession of drugs with the intent to sell charges.  White already had four misdemeanor drug and theft warrants for her arrest while Cole tacked on the additional charges of committing a felony while on OR release.
A quick check of a vehicle at the home produced a DeWalt power drill inside the truck. Sheriff's officials say investigators are trying to determine if it was one of several power tools stolen recently in a heist in the Jackson area.