Mother Lode Support Funds Sonora Dad In Burying His Daughter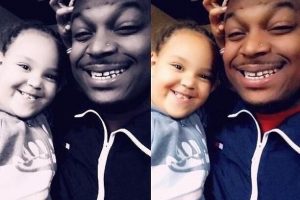 La'Rayah and her Father Danaun Davis

View Photos
Sonora, CA – 5-year-old La'Rayah Davis will be put to rest on Saturday after nearly 200 Mother Lode residents and others from around the country pitched in to help her father bring her body from Las Vegas to Sonora for burial.
Earlier this week, La'Rayah's mother, 25-year-old Amy Taylor, and her mom's former NFL football player boyfriend, 28-year-old Cierre Wood, were formally charged with murder and child abuse. Prosecutors allege that Woods used rigorous exercise including several intervals of wind sprints, wall sits and sit-ups as a form of discipline for the little girl, whom he berated and called 'chunky.' Court documents described that last week, while doing a "punishment workout," an exhausted La'Rayah fell backwards and hit her head on the floor. After getting up she collapsed again and shortly afterwards was pronounced dead.
A gofundme page was set up to help La'Rayah's father, Danaun Davis, pay for his little girl's funeral expenses, as reported here last week. "Just bringing her home was over a thousand dollars." Shares Tiffany Van Winkle, a friend of Danaun," who adds, "They had raised that in probably eight to ten hours."
The goal was to raise $8,000 and in just over a week's time $9,225 is the current total. Van Winkle stresses, "Every single penny that is in there has gone to the funeral costs. The cemetery was half of that, the casket; just everything he [Danuan Davis] put from the gofundme straight to La'Raya and burying her – he is so grateful." Van Winkle says Danaun tells her he is "simply sending La'Rayah off like he always has."
La'Rayah's burial will be Saturday at 3 p.m. at the Dambacher Mountain Memorial Cemetery located at 22394 Lyons Bald Mountain Road in Sonora. A Celebration of Life will follow at 4:30 p.m. at the Heaven for Kids Park near the Tuolumne County Library on Greenley Road. It is the same park where last Saturday nearly 100 people lit candles during a vigil in remembrance of the little girl.
Van Winkle says both the burial and celebration are open to the public. The latter she says will be a potluck and she notes that food and water are needed. The father asks those attending to wear purple not black as it was La'Rayah's favorite color. Question regarding the services can be directed to Van Winkle by calling 209-431-9974.