Sonora Vigil For Slain 5-year-old Girl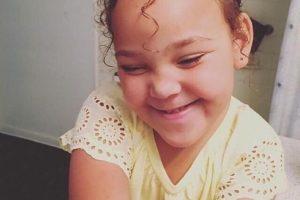 La'Rayah Davis

View Photos
Sonora, CA – The death of a 5-year-old girl, whose father lives in Sonora, has captured national attention as one of the suspects charged with her death is a former NFL football player.
Candles will be lit this evening in memory of 5-year-old La'Rayah Davis who died Tuesday in Las Vegas. The girl's father, Danaun Davis, along with relatives and close friends are holding a vigil at the Heaven for Kids Park near the Tuolumne County Library on Greenley Road in Sonora at 5 p.m. It is open to the public.
Tuesday around 7:30 p.m., the Las Vegas Metropolitan Police were called by area hospital officials regarding a child that had gone into cardiac arrest and had been pronounced dead at the medical center while showing "signs of abuse." Police report that the little girl was found unresponsive by emergency responders at an apartment where she lived at with her mother, 25 year-old Amy Taylor, and the mom's boyfriend, former running back 28-year-old Cierre Wood. Detectives report the little girl had bruising to her torso, legs and abdomen.
Most recently, Wood's had played in the Canadian Football League. Before that he suited up for the Houston Texans, New England Patriots and Buffalo Bills in the NFL after playing college football at Notre Dame. His bail was denied in a Las Vegas court on Thursday as he faces first-degree murder and child abuse charges. During that proceeding, the prosecutor revealed an autopsy report showed La'Rayah also had liver laceration along with her visible injuries. Taylor was arrested for child abuse on Wednesday and then released after posting her $5,000 bail.
Danaun Davis and Taylor met about seven years ago when she lived in Sonora, according to a family friend, but the two split up after about four years. He has set up a gofundme page in hopes of raising enough money to bring his daughter here for burial. In just two days, $5,540 has been raised out of the $8,000 needed to make that happen, click here for that page.