Female Felon Arrested On Fresh Firearms Charges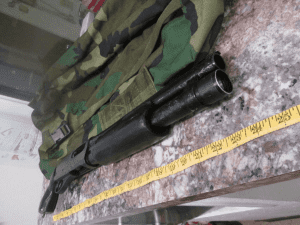 Tanya Dunlap Arrest TCSO Evidence Photo

View Photos
Sonora, CA — Three days after leading deputies on a vehicle chase after which a handgun was recovered, a local woman faces fresh felony charges.
According to Tuolumne County Sheriff's spokesperson Sgt. Andrea Benson, just before 11:30 Sunday night, deputies pulled over a green Jeep Cherokee on Estralita Road in Sonora and arrested 30-year-old Tanya Dunlap of Twain Harte.
Benson says deputies were responding to a report that she departed a residence following an altercation. During the traffic stop, deputies determined the driver of the Jeep was unlicensed. In the process of a vehicle search, deputies located on the floorboard a spray-painted Remington 870 pump action shotgun that had been modified to a short barrel.
As reported here, Dunlap was behind the wheel of another vehicle that crashed last Thursday during the course of a vehicle pursuit. Among her charges resulting from that incident was being an addict in possession of a firearm.
She now faces new felonies for manufacturing a short-barreled shotgun as well as being a felon in possession of a firearm and committing a felony while out on bail.