Hazardous Wiring Evident At Latest Indoor Grow Bust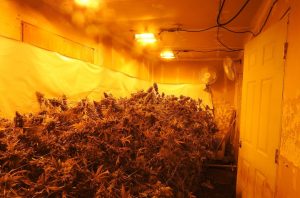 Mountain Ranch illegal grow on Old Emigrant Rd CCSO MET April 2019

View Photos
San Andreas, CA — Calaveras County's Marijuana Enforcement Team (MET) is staying busy eradicating indoor commercial grows.
Officials reported Monday the MET after serving a search warrant on Friday, uncovered an illegal cultivation operation in Mountain Ranch within a converted garage in the 5000 block of Old Emigrant Road.
While no suspects were on site at the time, investigators found and seized 196 marijuana plants and Calaveras County Code Compliance followed up by posting the residence as substandard due to hazardous electrical work onsite. An investigation is ongoing although officials say no further details are currently available.
A day earlier, as reported here, the MET busted another grow in rural Angels Camp and took one person into custody.
The Calaveras County Sheriff's Office encourages anyone with information on illegal marijuana cultivation sites or anywhere where the manufacturing of concentrated cannabis may be going on (aka, butane honey oil labs) to call the Sheriff's Marijuana Tip Line at 209 754-6870.