Raid Nets More Than 1,200 Pot Plants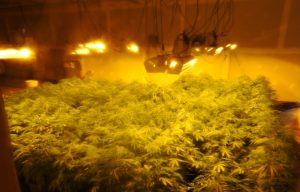 Pot plants seized

View Photos
Angels Camp, CA – The cultivators of this illegal grow not only grew plants in the carport and home, but took it one step farther.
With all available indoor space at the property in the 5000 block of Spur Road in Angels Camp used to cultivate the plants, the growers decided to just add another room onto the house – without any permits of course.
The Calaveras County Sheriff's Office Marijuana Enforcement Team seized a total of 1,227 marijuana plants 64 pounds of processed marijuana and one shotgun during a search of the property. Investigators also arrested 37 year old Feng Gao of Sacramento for marijuana cultivation, maintaining a drug house, possession of marijuana for sale, criminal conspiracy. His bail was set at $150,000.00. The investigation remains ongoing and anyone with information is asked to call the Sheriff's Marijuana Tip Line at (209) 754-6870.
This bust was similar to one a week ago in Mountain Ranch, as reported here, where an entire two-story home and all structures on the property were used for cultivation.