New Details Released In J-59 Big Rig Crash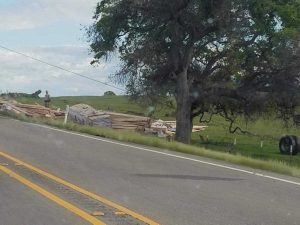 Overturned semi and trailer full of lumber

View Photos
Keystone, CA — The CHP has identified the driver involved in a big rig rollover crash on J-59 and caused traffic delays for commuters last night.
As reported here with video of the wreck, the semi and its trailer loaded with lumber overturned around 2 p.m. on Tuesday near Red Hills Road in the Keystone area of Tuolumne County. The CHP has identified the driver as 21-year-old Gaston Fuentes from Lamont, California. He reportedly lost control of the 2013 Freightliner he was driving while heading into a curve. The CHP officer noted in his traffic report that due to making an "unsafe turn," the truck and trailer to flip.
The wreckage blocked the southbound lane of the roadway. Officers directed traffic for several hours as environmental health officials cleaned up a hydraulic fluid that leaked from the truck onto the road. Then a tow crew removed the semi and trailer. The roadway was not completely reopened until the cab and trailer were up righted at around 6 p.m. There were no injuries in the crash.
The cut lumber was stacked on the shoulder of J-59. The CHP reports that the roadway will have to be shut down again when the trucking company retrieves the load, but exactly when that will be is unclear. The name of the company was not immediately known, according to the CHP.