Tuolumne County Supervisors Approve Rawhide Road Bridge Replacement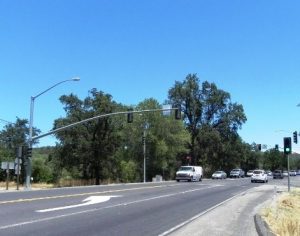 Rawhide Road and Hwy 108

View Photos
Sonora, CA — Tuolumne County leaders are moving forward with a notable infrastructure project that has been in development for many years.
Yesterday the supervisors voted 5-0 to approve a planned Rawhide Road Bridge Replacement over Woods Creek and adopted the correlating Mitigated Negative Declaration environmental review document.
The county first requested local assistance funding from Caltrans back in 2004 for the project, and engineering work began in 2005 upon the hiring of Quincy Engineering. In 2008 the supervisors were surprised when Caltrans required numerous additional environmental studies, including an updated traffic study, as well as well as mitigation efforts to offset future congestion, leading to the installation of a signal at Highway 108 and 5th Avenue.
Now that the project has been endorsed by the board, the county will be able to commence right of way activities, including permitting and right of way acquisition. Those associated costs are expected to be reimbursed through a highway federal bridge program at a rate of 88.5-percent.
The supervisors heard some public concerns yesterday related to a correlating realignment of Rawhide Road. Board member John Gray responded, "We know that when we get these types of projects there is not any way to mitigate 100-percent of the issues that come forward. I think they have done the best job possible."
The county is hoping to begin construction sometime around Spring of 2021, and the actual construction will be funded by the Federal Highway Bridge Program.