Smashed Windshield And Door Result From Brawl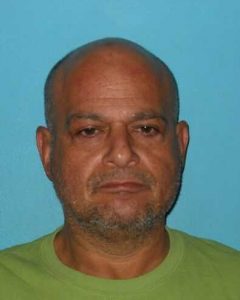 John Hidalgo

View Photos
Jamestown, CA – Two local men were arrested after a reported brawl over a woman, and one of the men allegedly kicked in a doorway after being struck with a shovel by the other man.
The Sheriff's Office received a call around 4:30 a.m. on Wednesday reporting a disturbance at the Twin Pines Mobile Home Park located at 10760 Wigwam Road in Jamestown. When Tuolumne Sheriff's Deputies arrived, one of the men, 45-year-old Joseph Garcia of Sonora, was walking away from the scene as the window of his vehicle had been smashed. During questioning deputies learned that Garcia began pounding on the door of a travel trailer where he suspected his ex-girlfriend and 54-year-old John Hidalgo of Jamestown were staying.
Armed with a shovel, the sheriff's office says Hidalgo burst out of the trailer to confront Garcia. Seeing Garcia's vehicle, Hidalgo allegedly began hitting the windshield with the shovel until it shattered. He then allegedly turned the gardening tool on the other man, striking him until Garcia was able to take the shovel away, according to sheriff's officials.
Hidalgo then retreated into his home with Garcia chasing him and subsequently kicking in the doorway. Once inside, Garcia tried to pull his ex-girlfriend out of the trailer while she fought him, according to deputies. During the incident Garcia sustained minor injuries.
Garcia was arrested for burglary, domestic violence, and an outstanding warrant. Hidalgo was taken into custody for assault with a deadly weapon, vandalism, and possession of a controlled substance, which was found in his pocket after being searched. Sheriff's officials did not disclose what drug was discovered on him. Garcia's bail was set at $50,000 and Hidalgo's at $40,000.
Of note, Garcia was also allegedly involved in a fight outside of a Sonora bar that resulted in one man being severely beaten last summer, as reported here.