Drivers ID'd In HWY 4 Crash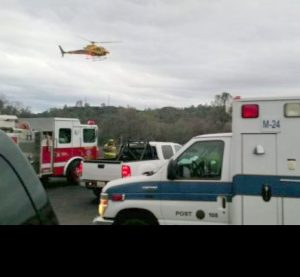 Crash on HWY 4 and Parrotts Ferry Road

View Photos
Vallecito, CA – New details have been released by the CHP San Andreas Unit  regarding a head-on crash on Highway 4 that resulted in one person being flown from the scene.
Initially, the CHP reported it as a pile up involving three vehicles that stalled traffic during the Tuesday evening commute, as detailed here. Today, the information was revised to two-vehicles that hit head-on.
The collision happened around 5:30 p.m. at the intersection of Parrotts Ferry Road in the Vallecito area. The CHP details that 50-year-old Jeffery Burton of Vallecito driving a 2016 Nissan Titan turned directly into the path of a 2002 Chrysler PT Cruiser driven by 74-year-old David Ranker of Murphys. The impact sent one vehicles sailing down an embankment and the other came to rest in the middle of Parrotts Ferry Road.
Ranker suffered moderate injuries and was air lifted to a Modesto hospital. A passenger in his vehicle, 64-year-old Mindy Lafan, sustained minor injuries and was taken by ground ambulance to a local medical center. Burton was not hurt in the crash.
Alcohol or drugs were not a factor in the collision, according to the CHP. Officers directed traffic for over an hour as a tow crew worked to pull the vehicle out of the ditch and clear the wreckage from the roadway.