More Hwy 26 Damage Causes Lane Closure Near Mokelumne River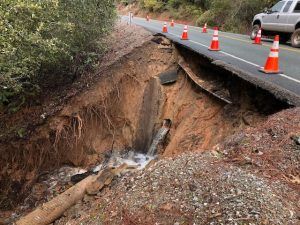 Hwy 26 slip-out near Mokelumne Hill March 4 2019

View Photos
San Andreas, CA — Travelers and commuters in Amador and Calaveras counties have another damaged section of Highway 26 to contend with according to Caltrans officials.
They report that personnel detected a new slip-out Monday on Highway 26 in Amador County about a mile-and-a-half from the North Fork Mokelumne River. Subsequently and until further notice, there is a cone zone set up with one-way controlled traffic about two-and-a-half miles west of the Highway 88 junction at Joyce Road as crews work to protect the affected highway area from further damage.
Caltrans is maintaining an open travel lane in order to provide access for northern Calaveras County communities such as West Point and Wilseyville. The agency acknowledges that those communities are already under challenge, having to travel around a section of Highway 26 that remains closed from about two miles east of Glencoe to about three miles west of West Point, due to Feb. 14 storm damage. As reported here, repairs within that stretch may perhaps take until late March.
With regard to the slip-out area in Amador, officials say there is no estimate yet for how long the repairs are going to take, although with more rain imminent motorists are encouraged to travel with caution and remain prepared for winter driving conditions.