Missing Man's Home Searched, Daughter Arrested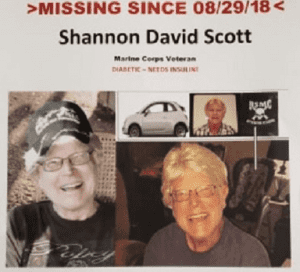 Shannon David Scott Missing flyer images

View Photos
San Andreas, CA — Suspected foul play behind the disappearance of a retired disabled military veteran has led forensic investigators to scour his home for clues.
According to Calaveras County sheriff's officials, on Monday CCSO and Department of Justice detectives served a search warrant at the Wilseyville residence of 66-year-old Shannon Scott, located in the 4000 block of Blagen Boulevard.
Scott was reported missing from the home back on Aug. 31, 2018. As reported here, Scott supposedly departed on that date for a doctor's appointment in his vehicle, a white colored 2014 Fiat bearing California Purple Heart license plate #9038PH and a Marine Corps decal on the rear window. He never arrived at his destination in Rancho Cordova and neither he or the vehicle has been seen since.
Officials say that although there have been no new leads in locating Scott, detectives have been conducting follow-up regarding possible crimes relating to his finances, which triggered the search warrant.
No Bail For Daughter Charged With Probation, Felony Violations
While on scene, Scott's daughter, 25-year-old Shaylee Scott was arrested for felony violation of probation, being a felon in possession of a firearm and ammunition. She is currently being held at the Calaveras County Jail without bail.
Again, Scott is described as a white male, six feet tall and 170 pounds with short blonde hair and blue eyes. He is dependent on a wheelchair or a cane and was last seen wearing a black shirt, white shorts and brown shoes.
A flyer still being circulated lists that Scott wears prescription glasses and is a diabetic needing insulin. Distinguishing marks listed are four tattoos: a dragon on his right arm; a winged horse on his right bicep; a rose on his left arm; also a Kentucky flag on his left bicep.
As the investigation is active, officials are not providing any other case details at this time and ask anyone with information as to Shannon Scott's whereabouts or other pertinent information to call CCSO Detectives at 209 754-6500.