Snowpack Tracking Ahead Of Normal For Now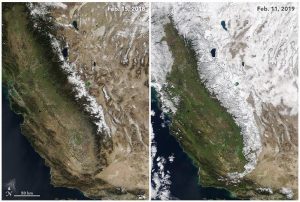 Terra MODIS Sierra Snow Images Feb 2019

View Photos
Sacramento, CA – State water resources officials, sharing the latest Sierra snowpack figures, report that the statewide average is 145 percent of normal for this time of year.
Runoff from the snowpack historically supplies California residents with a third of their annual water supplies by recharging reservoirs, although state scientists say that climate change impacts are reducing that.
Overall, the average of snow water equivalent (SWEQ) is measuring at 33 inches. The Central Sierra, at 37 inches SWEQ, is at 154 percent of normal for the date. The North Sierra, which has received 30 inches, is at 127 percent, and the South Sierra at 30 inches is at 152 percent.
As reported here, back on Jan. 3, the Sierra snowpack electronically measured in at 67 percent of normal for the date although the first manual survey at Phillips Station near Lake Tahoe came in at 80 percent. The February manual measurement, taken about two weeks ago, equated to about 100 percent.
Dodge Ridge Ski Resort, which relies 100 percent on natural snow for its operations, reports over the past week it received over five feet of new snowfall with 20 inches falling over the holiday weekend. This season it has received 33 feet of snow so far, roughly over 150 percent of its annual average snowfall year to date. Bear Valley, which also makes its own snow, reports its current storm total at 57 inches and that it has had over 31 feet of snowfall so far this season.
Statewide, cumulative precipitation measures at 33.8 inches, which is 136 percent of average for the date and 6.4 inches short of the 50-year (1966-2015) average, which is currently 40.2 inches.  While last year's atmospheric river storms in late March locally created disastrous conditions, the state generally receives its heaviest precipitation December through February.