Belated Christmas For Boy Critically Injured In Holiday Crash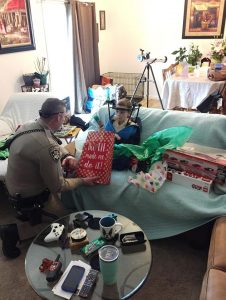 "Christmas for Kaiden"

View Photos
San Andreas, CA – Still wearing the "Halo Brace" due to head injuries he received in the deadly holiday crash that took his mother's life, Kaiden Lund lit up when officers arrived with presents in hand.
Calling it a "Christmas for Kaiden," a San Andreas Unit CHP officer and his wife organized the celebration since the boy remained in the hospital for 18 days after the collision, which occurred just two days before Christmas, on Pettinger Road in the Burson area. Kaiden's mother, 27-year-old Chelsea Lund, was killed when the car she was driving was hit head-on by a truck that illegally crossed the double-yellow lines to pass another pickup, as earlier reported here. Both of the truck drivers involved in the crash were arrested for DUI.
While recovering at his grandparent's home, Kaiden was surprised on Monday, when officers and firefighters from Calaveras Consolidated Fire Department delivered toys, including silly string that brought a big smile to his face along with a tour of a patrol vehicle.
The CHP adds that their goal in relaying this tragic story to the public is to spotlight the lifelong consequences for everyone involved when a person decides to get behind the wheel while drunk. The CHP says there is a GoFundMe page that has already raised $17,212 to help support the family, click here to learn more.