Update: Suspect Named In Jamestown High Speed Chase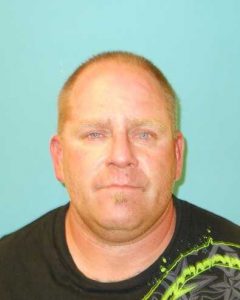 Darren Gerdes

View Photos
Jamestown, CA – After a tree put an end to a high speed chase on Friday night , a canine unit took over when the Sonora man took off running and took the suspect down quickly.
As reported here last night, the high speed chase began along Highway 108 just before 5 p.m. when a Tuolumne County Sheriff's Deputy tried to pull over a Chevy S10 pickup on Hwy 108 at Keystone Ranch for a cracked windshield and blocked license plate.  Instead, the man behind the wheel, 43-year-old Darren Gerdes, took off. While in pursuit, during the height of the Friday evening commute, the deputy noted Gerdes illegally passed several vehicles while traveling over 85 mph near the O'Byrnes Ferry Road intersection.  The deputy also observed him throwing what looked like a hypodermic needle from the driver side window.
The crash ended at the lower parking lot of the Chicken Ranch Casino in Jamestown when Gerdes lost control of the pickup and it crashed into a tree. He then took off on foot, which prompted the deputies to allow his partner, K9 Beau, to apprehend Gerdes. A records check revealed he was wanted on several warrants for evading and selling drugs to a prisoner.
A search of the pickup netted methamphetamine. Gerdes was taken into custody for evading, resisting arrest, possession of a controlled substance, reckless driving, several vehicle violations and his prior warrants.