Trash Bags No Longer Needed At Yosemite Entrance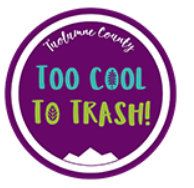 TCVB "Tuolumne County – Too Cool to Trash" campaign

View Photos
Yosemite, CA — In light of the National Park Service restoring trash pickup in Yosemite, the Tuolumne County Visitors Bureau will suspend passing out trash bags at the Highway 120 entrance station.
Volunteers have been gathering over the past week to hand out the bags as a way to promote good stewardship of the public lands during the partial government shutdown. The bureau is still monitoring the situation and is prepared act if trash service again become unavailable.
That said, Visitors Bureau Executive Director Lisa Mayo says the overall corresponding "Too Cool To Trash" campaign will continue on. It was in development prior to the shutdown and the plan is to focus on sharing information related to fire safety, responsible hiking, weather preparedness and other safety and beautification initiatives.
In addition, the bureau will continue to sponsor outhouses at the Pinecrest Lake Recreation Area in the Stanislaus National Forest while the partial government shutdown is in effect or until restroom services are restored.
Congressman Tom McClintock recently announced that trash pickup in Yosemite, and cleaning of restroom facilities, would be funded on an emergency basis by revenue collected through entrance fees, as reported here.