Sonora Bean Feed Tradition A Success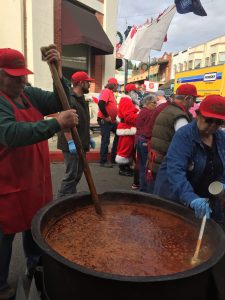 Sonora Bean Feed
Sonora, CA — Even though Galen "Mutz" Mutzner is over 90 he did not miss a successful 31st annual Sonora Bean Feed, the first since he passed the ladle to its new organizers.
It was the first bean feed where Mutz was not in charge but his iron pot was still in use. Clarke Broadcasting caught up with the bean feed founder before he rang the bell at high noon as shown here. At noontime the waiting line stretched back before Coffill Park as locals, many dressed or accessorized for the holidays, stood and chatted with their neighbors.
It was 31 years ago on a Friday before Christmas that Mutz set up a pot on the sidewalks of downtown Sonora and began serving up a bean lunch for free to anyone who came by and wanted them. Rain, drizzle, freezing temperatures, sleet and sometimes snow never stopped the free Mutz´ Bean Feed. It was once estimated that over 700 people attended although there is never an official count.
The event is now organized by the Tuolumne County Sportsmen. More details on that are in the KVML Newsmaker story here. More holiday events are listed in the Thursday community events news story here.