Race To Be State's Next Democratic Leader Heats Up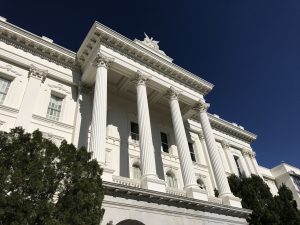 California State Capitol Building

View Photos
Sacramento, CA – With California emerging as a potentially important player in the 2020 presidential contest and last months resignation of the state's Democratic Party chair marred in scandal, the political maneuvering has begun.
As earlier reported here, the former party leader Eric Bauman stepped down after facing public accusations of sexual misconduct, which put the party in turmoil. On Thursday, liberal Bay Area progressive activist, Kimberly Ellis tossed her hat once again into the ring. She narrowly lost capturing that top post last year to Bauman. In a statement, Ellis shares that the party needs a leader to heal and unify state Democrats. She says she's ready to welcome presidential candidates to the heavily Democratic state and set the vision for what the party can achieve.
The current interim chair is Alexandra Gallardo-Rooker who has already declared that she will not run for the position. Although Ellis is the first to enter the race, more challengers are expected to jump onboard. A replacement is expected to be selected at a May state party convention in San Francisco.