County Will Review City's TCEDA Request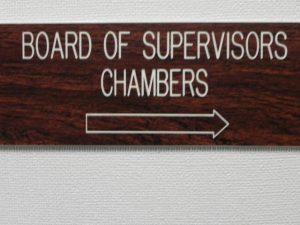 Tuolumne County Board of Supervisors Sign

View Photos
Sonora, CA — We will know more about the fate of the Tuolumne County Economic Development Authority next week.
We reported earlier that the City of Sonora has threatened to leave the joint powers authority and look into new ways to address economic development.
The city requested that the required 180 notice for exiting the TCEDA be dropped to 90 days because city leaders want to receive back the results of TCEDA financial and management audits. At its meeting on December 3 the council indicated that if the county declines to shorten the period, it will walk away from the joint powers agreement.
The county meeting documents submitted to the supervisors ahead of Tuesday's meeting by the CAO's office and County Counsel note several of the challenges in reducing the timeframe to 90 days. The memorandum reads, "Shortening the time period for notice of unilateral withdrawal impacts the county's ability to thoughtfully develop and implement its own economic development services. For instance, the County would need to consider whether it is desired to create a staff position or seek to contract with an individual or entity to perform economic development services."
The report adds, "Six months is adequate time to complete this work but should this work be crunched into a three month time period, it is likely not feasible because the same County staff will be working to assist the TECEDA with finalizing its dissolution during this same time period as well as compiling a report for the FY 2018/19 year-end budget and developing the FY 2019/20 proposed budget."
Tuesday's supervisors meeting starts at 9am.