Sonora Gives County Ultimatum Regarding TCEDA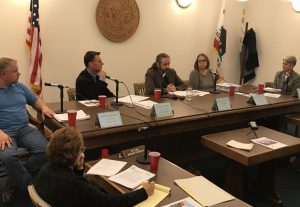 Sonora City Council

View Photos
Sonora, CA — With a deadline looming at the end of month, if Tuolumne County does not reduce the amount of time required to give notice for exiting the economic development authority joint powers agreement, the city plans to walk away.
The agreement in place for the Tuolumne County Economic Development Authority is that  the City of Sonora or Tuolumne County must give 180 days notice prior to the new fiscal year (July 1st) if it plans to exit. However, the city council would like the results of a management and financial audit before making any decision. With those documents likely to come after the upcoming December 31st deadline, the council formally voted to request that Tuolumne County reduce the mandatory notice period from 180 days to 90 days. If the county fails to agree, or simply ignores the request, it triggers the city's exit from the TCEDA. The council approved the action with a 5-0 vote.
At tonight's meeting the council members also made it clear that if the city leaves, or stays, there needs be clear objectives and outcomes it desires to see in an economic development action plan. That would likely be developed at a future study session of the city council. Mayor Jim Garaventa noted there was much animosity and discord right now between the city and county regarding the issue of economic development. Councilwoman Connie Williams, a former TCEDA board member, added that the TCEDA often has the feeling of being a county entity and Sonora was perceived as the "step-child."
Three members of the community spoke at the meeting during public comments. The first was Ken Perkins who had filed a transparency related lawsuit against the TCEDA. He praised the city for showing "strong leadership" with its action this evening. Local business owner Marianne Wright spoke neither for or against leaving the TCEDA, but did praise its Director Larry Cope at one point, and argued that the city needs to find a way to help economic development, regardless of the direction it takes. She also criticized local regulations that hamper businesses. A representative of the Valley Sierra Small Business Development Center made similar comments about the need to support economic development in one form or another, but did not weigh in on which way to go.
The city will now wait for the county's reaction. The board of supervisors would need to take action at a meeting prior to the end of the year. No one representing the county was on hand for tonight's city council meeting. The county funds around $347,000 of the TCEDA and just over $100,000 comes from the city.