California's Midterm Voter Turnout Close To Presidential Elections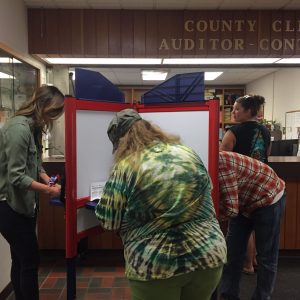 Voters filling out ballots at Tuolumne County Elections Office in Sonora

View Photos
Sacramento, CA — California's voter turnout in the November election topped 64 percent and the Mother Lode numbers were even higher.
All county ballot counting had to be finished by Friday's state deadline. Election officials reported nearly 12.7 million Californians voted in the midterm election equaling a 64 percent turnout. That's the state's highest midterm turnout since 1982. The deadline for the Secretary of State to certify the results is next Friday, Dec. 14th.
The Mother Lode surpassed the state numbers by about ten percent. Calaveras County's figure was just over 74 percent with 21,927 votes cast. Tuolumne County's was slightly higher at nearly 76 percent, totaling 24,191, as earlier reported here. Election officials in both counties noted that it was "a lot higher" than most midterm elections.
State election officials report that the numbers neared presidential year elections, which typically tops 70 percent in California. They also noted that less than half of registered voters turned out in the 2014 midterm.
On Thursday, the last California race was called as Republican incumbent David Valadao conceded to Democrat TJ Cox's in an upset victory for the Central Valley's 21st Congressional District. U.S. House seat. That leaves the GOP holding just seven of California's 53 U.S. House seats. The state Legislature has already sworn in lawmakers for the new two-year session.
To view the results of local elections, click here.