Election Results Certified In Tuolumne County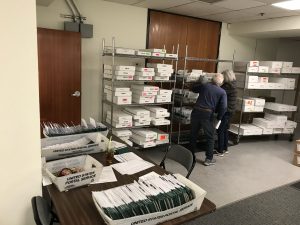 Processing ballots in Tuolumne County

View Photos
Sonora, CA — The election results are now official in Tuolumne County.
Clerk and Auditor Controller Debi Bautista tells Clarke Broadcasting, "We are completed and certified, and I have signed the documents. The wonderful news is that we had almost a 76-percent turnout. 24,191 voters in Tuolumne County let their voices be heard."
Comparing it to past mid-term elections, Bautista adds, "It was certainly a lot higher. I think there was a lot of interest in local elections and that got people to come out. And I think nationally there is more involvement with voters and the election."
In the closely watched Tuolumne County Board of Supervisor races, challenger Ryan Campbell defeated incumbent Randy Hanvelt in District Two by a final count of 112 votes. In district three, Anaiah Kirk beat Laurie Sylwester by 292 votes.
To view the final results, click here.