Accomplices In Snelling Shooting And Robbery Caught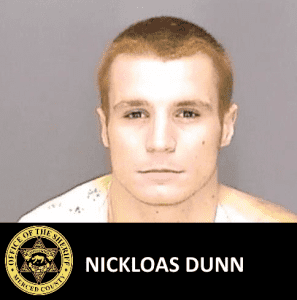 Nickolas Dunn

View Photos
Merced County, CA – While Tuolumne County Sheriff's Deputies helped nab one of the suspects soon after a Snelling home invasion last week that erupted in gunfire and wounded two, his alleged accomplices were not captured until this week.
The armed robbery happened in the early morning hours on November 28, at a home in the 7000 Block of Merced Falls Road. Merced County Sheriff's officials have released new information regarding the break-in noting that there were four suspects, all wearing` ski masks and armed with firearms. As earlier reported here, the homeowner and one of the suspects struggled over a gun that went off. Detectives now detail that the homeowner was shot in the shoulder. Then "one of the victims grabbed the gun and fired several shots at the suspects shooting at least one of the suspects in the shoulder," according to investigators.
That suspect, Nickolas Dunn, was arrested by Tuolumne County Sheriff's Deputies later that day after the thieves fled the scene together. Deputies found Dunn at a home in La Grange where he went for help after her was dumped on the side of the road in the La Grange area.
Since then, Merced Sheriff's detectives have been investigating and seeking the three still on the run. Their manhunt ended this week when the suspects, Max Macen, Joseph Fudge, and the get-a-way driver Kathleen Hanshew, where all arrested.
Macen and Hanshew were taken into custody after a short pursuit in Modesto on Monday (Dec. 3), according to Merced Sheriff's officials. Both face home invasion robbery charges. Macen is also charged with assault with a firearm and a parole violation.
Two days later (Dec. 5), Fudge, who had a gunshot wound to his lower back, was arrested by detectives in Montana. It is unclear if that injury is linked to this incident. Fudge is pending extradition back to California to face charges of home invasion robbery and assault with a firearm.