Snelling Double Shooting Ends With One Suspect Nabbed In Tuolumne County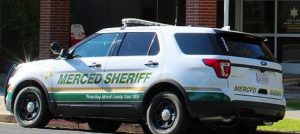 Merced County Sheriff's patrol vehicle

View Photos
Snelling, CA – A tip to Clarke Broadcasting regarding a home invasion turned double shooting in Snelling ended with Tuolumne County Sheriff's Deputies aiding Merced County law enforcement.
We inquired about the incident and Tuolumne Sheriff's spokesperson Sgt. Andrea Benson confirmed that deputies helped in the capture of one of the alleged suspects.
Merced County Sheriff's report that early this morning dispatch was alerted to a home invasion robbery that ended with two people being shot. The victims relayed that several suspects wearing ski masks broke into their home armed with guns. At one point, the homeowner began to struggle with one of the suspects over a gun and both were shot. Sheriff's officials did not reveal exactly how the shooting happened and whether the gun went off or if another suspected fired their gun. The suspects then fled the scene.
Tuolumne deputies got involved when the suspects crossed the county line, according to Sgt. Benson who details, "Our agency assisted in detaining one of the suspects who had been shot and let out of the get-a-way car near Chinese Camp. After, the suspect made his way to a nearby home and requested help. The other suspects left the scene before our arrival."
Those individuals are still being sought by Merced County detectives who ask that anyone with information on this crime or possible suspects call (209)385-7472.
Both individuals that were shot are expected to survive their injuries, according to Merced Sheriff's officials.