Death Toll Increases On Camp Fire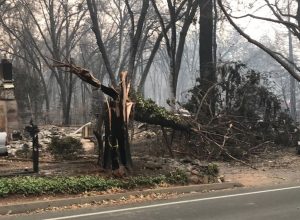 Camp Fire Destruction

View Photos
Paradise, CA — 48 people are now confirmed dead related to the Camp Fire, and the Butte County Sheriff's Office is planning to soon release a list of the missing residents.
Earlier this week the sheriff's office indicated that over 200 were still unaccounted for. 100 National Guard troops have been called in to help first responders search for remains. The fire is estimated to be 135,000 acres and 35-percent contained. The fire has destroyed 7,600 homes and 260 commercial buildings. 5,615 firefighters are assigned to the incident.
To read a story about a local fundraisers to help the Camp Fire recovery, click here.