Death Toll Rises In Camp Fire, President Threatens To Halt Fed Funding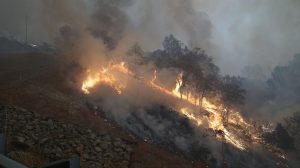 Camp Fire

View Photos
Butte County, CA — CAL Fire reports the number of dead has climbed in the Camp Fire burning in Butte County, but crews are making some progress on the flames, while PG&E admits a power line problem in the area shortly before the flames broke out.
The fire's containment grew to 20 percent and the acreage rose to 100,000 acres in the blaze now given the title of most destructive wildfire in California history. This morning CAL Fire relayed that nine people have died. Five victims were found in their cars while the others were discovered outside of burned out buildings. The death toll is expected to climb with a number of elderly residents still missing.
As reported here yesterday, Mother Lode crews were dispatched to help battle the flames that have now destroyed over 6,700 structures including 6,453 residences and 260 commercial structures while another 15,000 remain threatened. Evacuation orders remain in place as well as road closures.
President Donald Trump who earlier issued an emergency declaration providing federal funds to help firefighters, today threatened to halt those payments. The President claims the state's forest management is "so poor."
Via Twitter he wrote, "there is no reason for these massive, deadly and costly fires in California." Trump added, "billions of dollars are given each year, with so many lives lost, all because of gross mismanagement of the forests. Remedy now, or no more Fed payments!"
That set off a fire storm of twitter responses.
On Friday, Pacific Gas & Electric Co. notified state regulators that one of its high-voltage power lines in the area where the fire began had malfunctioned shortly before the flames broke out.
CAL Fire reports the fire will continue to burn to the northwest impacting the communities of Magalia and Paradise Lake while the community of Stirling City is still threatened. The fire is also continuing to burn to the northeast on both sides of Highway 70 and southwest into the Chico city limits along the east side of Highway 32.
There is also a hike in the number of resources on scene including: 3,223 fire personnel, 440 engines, 18 water tenders, 67 hand crews, 23 helicopters and 67 dozers. What ignited this deadly and devastating fire remains under investigation.