Planning Commission Green Lights Wendy's Project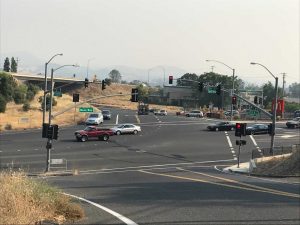 Proposed future location of Wendy's at the intersection of Fir Drive, Mono Way and Sanguinetti Road

View Photos
Sonora, CA – McDonald's will see its rival Wendy's move in right across the street in Sonora.
The Tuolumne County Planning Commission gave the thumbs up to the plan to build a 2,568 sq. ft. Wendy's fast food restaurant at the intersection of Mono Way and Fir Drive. This was the second public hearing, as commissioners ordered a traffic and safety study be done after the first one due to nearby residents concerns. The vote was five to one with one in opposition still regarding traffic, according to Tuolumne County's Community Resources Agency, Assistant Director Quincy Yaley. She adds, "The majority felt that the traffic study addressed some of the outstanding concerns that had been raised and brought some resolution to concerns that were raised by the neighbors."
Those concerns centered around traffic from the project being on Fir Drive, safety at the intersection of Mono Way and sight distances in and around the neighborhood, details Yaley. As reported here last week, the results of the study recommended additional directional signage for the restaurant among other aspects. Yaley details the commissioners' conditions, "There is going to be some additional signage required for the site to help direct traffic through the site and back onto Mono Way. Also proposed, is some clearing of vegetation along roadways to help with sight distances along with any steps that can be taken by the project to reduce any impact to a less significant level."
If there is no appeal of the decision received in the next ten days, the next step is for the applicant, Clovis businessman Sukniit Sangha, to get building permits for the project. Yaley says that could take a month to six weeks and then she anticipates construction to begin next year.