Microbrews, DQ Blizzards For Downtown On Sonora Planners' Agenda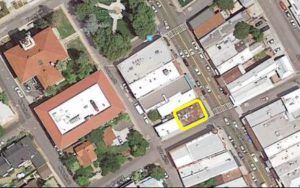 Overhead view of location for proposed Type I Brewing in downtown Sonora

View Photos
Sonora, CA — Proposed plans for a microbrewery in downtown Sonora and potential approval of a Dairy Queen will be aired at public hearings coming up next week.
Both will occur at next Tuesday's Sonora Planning Commission meeting, according to Community Development Director Rachelle Kellogg.
"Within the city's zoning ordinance there is not a provision that allows a microbrewery to exist within the city, so the text amendment to the zoning ordinance is being done to allow microbreweries with a use permit in certain zones," Kellogg explains.
The Planning Commission's approval of a use permit for a the microbrewery component would be contingent on Sonora City Council's approval of the text amendment after which the proposed project would be consistent with the city's municipal code.
From Lighthouse Deli To Type One Brewing
Applicant Thomas Silva's plans are to convert the currently existing Lighthouse Deli located at 28 S. Washington St. into a restaurant/microbrewery multiuse operation under the name Type One. He has already negotiated to purchase the restaurant, secured a long-term lease and named Kenny Cherry as the head of restaurant operations.
Silva's stated aim is to fill a void and create a memorable destination unique to Sonora, integrating the building's original and modern components, including a display highlighting the boiling tank used in his beer-making.
According to the project proposal, Silva's plans are to brew beer onsite made under his Type One brand that would be readily available to customers for consumption. As described in his application, most of the necessary kitchen equipment in place; the only other element his small-batch brewing operation will require is a restaurant-style fan hood to exhaust the steam generated from boiling water.
Other details in Silva's submission state that he has ten years of crafting beers, experimenting with various methods to create specialized beers in different brew styles, and will be closely involved in daily operations. He adds that he will be assisted by immediate family members, who have 30 years of brewing experience, and that as defined by the proposed text amendment, the facility will be limited to 15,000 barrels and onsite sales.
Dairy Queen Project Seeking Site Plan Approval
Also on Tuesday night, Andy and Naveet Singh, owners of the Sonora ARCO/ampm, are requesting approval of their plans to construct a 3,212 square-foot one-story building and associated parking lot above their present business to house a Dairy Queen restaurant at 17 Pesce Way. As reported here, the couple announced their plans to bring the franchise to the long-empty former Sonora Motors location back in June.
Included with their site plan submission is an overhead view map (viewable in the image box slideshow). It shows a drive-thru that wraps around the building, described to provide stacking for ten vehicles. Other notes indicate that the order menu would be located on the building's east side, away from nearby residential properties; an outdoor eating/picnic area in the center of the parcel situated next to the thru-exit. Access to the restaurant would be possible through the adjacent ARCO and off Pesce Way. Customer parking, including ADA-compliant spaces and employee parking are separately located.
The proposal lists numerous air quality, biological, cultural, geological, hydrological, hazmat, and noise mitigations. It also specifies one traffic mitigation plan involving widening the Pesce Way approach in order to provide separate left turn and right turn lanes.
Next Tuesday's Planning Commission meeting will begin at 5:30 p.m. in Sonora City Hall Council Chambers (94 N. Washington St.).