Mother Lode's Seven Local Ballot Measures All Pass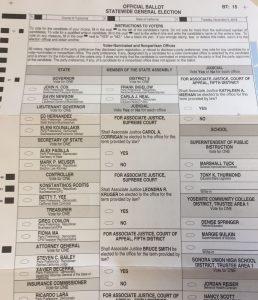 Midterm Election ballot

View Photos
Sonora, CA — While voters' responses across California to a slate of state propositions were split, every local measure on ballots in Calaveras and Tuolumne counties passed.
As reported here, Californians as a whole considered nearly a dozen state measures ranging from whether or not to repeal the so-called "gas tax" to added regulatory controls on kidney dialysis clinics and farm animal management.
Locally, Tuolumne County voters overwhelmingly supported Measure M, creating a means to collect taxes on future cannabis sales in the county, such as on deliveries, if state cannabis regulators force local jurisdictions, including those without dispensaries, to accept them.
Sonora residents voted 68 percent to 32 percent to adopt Measure N, increasing the city's business license tax to 15 percent.
In Calaveras County, different districts had at least one local measure to ponder. Countywide, Measure G, which sought to increase the transient occupancy or "tourist tax" to 12 percent, passed 63 to 37 percent.
In Angels Camp, Measure C, which asked voters to consider raising the local sales tax by a half-percent passed 63 to 37 percent.
Measures D and F, which respectively solicited voters' support to provide more operating revenue to Calaveras Fire and Rescue (CFR) and West Point Fire Protection District also passed. Measure D, which asked for a parcel tax increase, passed 63 to 37 percent. Measure F, which sought an appropriations limit adjustment, passed 79 to 21 percent.
Measure E, a bond measure placed on the ballot by Vallecito Union School District for maintenance and improvement financing, was approved 79 to 21 percent.
For the latest elections results, including updates on races yet too close to call, click here.