Voters Were Mixed On State Ballot Measures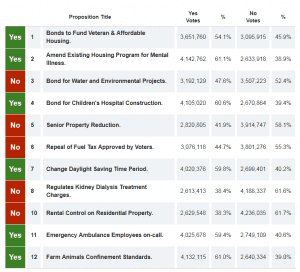 State Image

View Photos
Sonora, CA — An effort to repeal the state's recent gas tax increase failed, but voters were in favor of bonds for affordable housing and the idea of doing away with changing the clocks for daylight saving time.
There were 12 measures that initially qualified for the state ballot, however, one to split California into three states was pulled at the last minute, so it did not appear on the ballot. Six of the remaining propositions passed. They dealt with affordable housing, amending an existing housing program for mental health sufferers, a bond for children's hospital construction, changing daylight saving time, rules regarding emergency ambulance employees and expanded regulations for confining farm animals.
Those that failed included a bond for water and environmental projects, a senior property tax reduction, a repeal of the recent gas tax increase, regulating kidney dialysis charges, and rent control regulations for residential property.
The results in Tuolumne County varied from the state on numerous occasions. For example, the county voted in support of the gas tax repeal, in opposition to the affordable housing bonds and mental health provisions, against the bond for children's hospital construction and narrowly opposed the new farm animal standards.
The Mother Lode also differed from the state in high profile state races, with over 60-percent in both Tuolumne in Calaveras counties preferring John Cox for Governor over Gavin Newsom.  In the US Senate race, Kevin De Leon had 59-percent of the vote in both Tuolumne and Calaveras, compared to 40-percent for Dianne Feinstein. Both Newsom and Feinstein won easily when it comes to the statewide figures.
To view local election results, click here.