Ferretti Road Storm Repairs Underway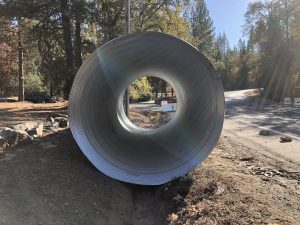 Repairs being made to Ferretti Road Emergency Culvert Replacement Project

View Photos
Groveland, CA – Construction is underway for the "Ferretti Road Emergency Culvert Replacement Project" in the Groveland area.
As reported here last month, at a special meeting the Tuolumne County Board of Supervisors hired Lodi based Ford Construction Company, Inc. to replace the culvert on the roadway that was damaged in the March 2018 storms.
Crews began the construction yesterday (Monday, Nov. 5th) and the repairs are slated to be completed by January 18 of next year, weather permitting. While a majority of the work will take place between the hours of 7 a.m. and 7 p.m. Monday through Friday, this weekend is an exception. Tuolumne Road officials relay that crews will be on site this Saturday, Nov. 10th during the day. Motorists could face delays as there will be flaggers directing one-way traffic. Drivers are asked to slow down and use caution when personnel and equipment is in the area and obey all construction signs in the cone zone.