Showdown Coming On State Water Plan?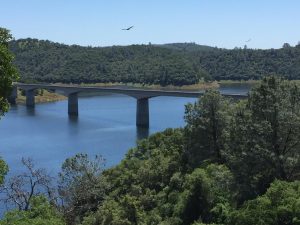 New Melones

View Photos
Sacramento, CA — The state water resources control board is scheduled to vote on aspects of a controversial plan, November 7th, which lawmakers say would have big impacts on the region.
The board is planning to finalize parts of the Bay Delta Plan unless water districts come up with a voluntary settlement ahead of time with the board.
The proposal on the table requires rivers in the San Joaquin watershed to maintain 40-percent of unimpaired flow levels between February and June. It would impact the Tuolumne, Stanislaus and Merced rivers. It is adamantly opposed by many regional state and federal lawmakers, and it also sparked a rally on August 20 in Sacramento that was attended by local leaders like Tuolumne County supervisors Randy Hanvelt and Karl Rodefer.
Trump Administration Interior Secretary Ryan Zinke is also opposed, and has hinted that legal action could be taken if the state moves forward. The Interior Department has maintained that the state board must ensure that water decisions comply with federal directives. Irrigation districts in the central valley have also hinted they may take legal action.
Clarke Broadcasting asked Congressman Tom McClintock about the plan while he was in Sonora last week. The Congressman stated, "I'm very concerned. The state water resources control board has made its intentions very clear that they are going to order 40-percent of the flow off our reservoirs. It means we will watch our reservoirs drain down to dead pool levels regularly for no other purpose than dumping that water into the Pacific Ocean."
Proponents at the state level have argued that the increased flows will help the salmon population and improve local ecosystems. Groups like the San Francisco County Supervisors have passed resolutions supporting the tentative state actions.
With legal action threatened, a decision on Wednesday to move forward is unlikely to be the final chapter of the story.