Four Days And No Sign Of Hiker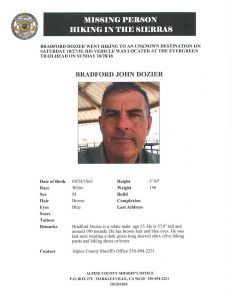 Bradford Dozier missing bulletin

View Photos
Alpine County, CA – The search continues in Alpine County for a Sacramento man that has been missing since Sunday.
As reported here Tuesday, 55-year-old Bradford Dozier went to the Blue Lakes area, which is southwest of Markleeville, to hike on Saturday and when he did not return the next day, his wife called authorities to report him missing. When Dozier's vehicle was found that afternoon at the Blue Lakes Campgrounds an air and ground search began. While Tuolumne County's search and rescue team (SAR) had helped to comb the area yesterday, today the only crews that remain from the Mother Lode are from Calaveras and Amador.
Alpine Sheriff's officials update that as of 2 p.m. "no clues have been found." Teams are currently concentrating their search west of Blue Lakes near Deadwood Peak. Resources deployed in the search include ground teams, a CHP and National Guard helicopter.
Dozier is described as a 55 year old, white male adult, 5'10", 190 pounds with brown hair and blue eyes. He was wearing a green shirt, olive colored hiking pants and hiking shoes or boots. Anyone with information regarding his whereabouts should call the Alpine County Sheriff's dispatch at (530) 694-2231.