Mother Lode Rescue Teams Assisting In Search For Missing Hiker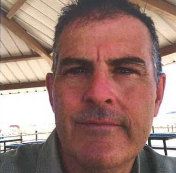 Bradford Dozier

View Photos
Alpine County, CA – Mother Lode county rescue teams are helping Alpine County Sheriff's Office search for a missing Sacramento man whose was last seen on Saturday.
Search and rescue teams (SAR) from Calaveras, Tuolumne, and Amador counties were deployed this morning to help comb the Blue Lakes area southwest of Markleeville where 55-year-old Bradford Dozier's vehicle was found on Sunday afternoon. He was reported missing by his wife on that morning. She relayed that he headed out the prior day to go hiking in the area and never returned. His vehicle was located near the Blue Lakes Campgrounds on Sunday afternoon triggering a search from the ground and air. After two days of scouring the area, there has been no sign of Dozier. Today, the additional SAR teams were called to the scene along with two CHP and one National Guard helicopter, two scent tracking dogs and three equestrian teams.
Alpine Sheriff's officials describe Dozier as a white male adult, 5'10", 190 pounds with brown hair and blue eyes. He was last seen wearing a green shirt, olive colored hiking pants and hiking shoes or boots. Dozier is known to be an avid hiker who likes to go off trail on the summit peaks in Alpine County.
Although some in the public have offered to help look for Dozier, due to the hazardous terrain and potential for injury, the sheriff's office has declined those offers. They are asking if anyone may have seen Dozier hiking or knows of his whereabouts call the Alpine Sheriff's dispatch at (530) 694-2231.