'Selfie' May Have Attributed To Couples Deadly Yosemite Fall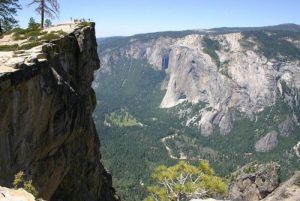 Taft Point in Yosemite (left)

View Photos
Yosemite, CA – A couple from India that lost their lives after plunging from Taft Point in Yosemite National Park last Wednesday left a clue behind.
As reported here yesterday, the married couple of four years was identified as 29-year-old Vishnu Viswanath and 30-year-old Meenakshi Moorthy, both were living and working in the United States. Tuesday, the man's brother, Jishnu Viswanath, pointed to social media as having played a role in their deaths. He revealed to the Associated Press that the couple was taking a "selfie" on the dangerous cliff. The brother added that the pair set up their tripod near a ledge and the next morning visitors reported to park rangers that they found a camera there. He continued that the rangers "used high-powered binoculars to find them and used helicopters to airlift the bodies."
The couple is being linked to a growing problem of selfie deaths. A study published this month in the Journal of Family Medicine and Primary Care showed that 259 people had died taking selfies between October 2011 and November 2017, according to the A.P.
Park officials relay that more than ten people have died at Yosemite this year, some from natural causes and others from falls. As reported here last week, Park spokesperson Jamie Richards noted that the official investigation into the cause of the couple's deaths could take "several days."