Investigation Continues Into Yosemite Deaths, Victims ID'd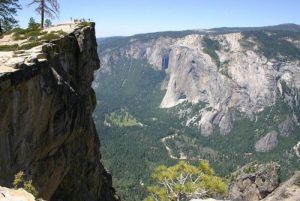 Taft Point in Yosemite (left)

View Photos
Yosemite National Park, CA — National Park officials have publicly identified the pair who perished after plunging to their deaths from a popular overlook.
Officials say that the two who fell from Taft Point last Wednesday are 29-year-old Vishnu Viswanath and 30-year-old Meenakshi Moorthy, a man and a woman from India, both who were living and working in the United States.
As reported here, the 7,500-foot elevation lookout point, a favorite for visitors, has sporadic railings and an accessible granite ledge where there are none. The location, which has granite fissures that drop to the valley floor, provides sweeping views of Yosemite Valley, Yosemite Falls and El Capitan. Responders recovered the victims' bodies a day later from about 800 feet below Taft Point.
Officials are not currently providing any further details except that the deaths remain under an investigation that could take several days.
So far this year park officials report that more than ten people died in Yosemite from natural causes or falls.