Utility Acknowledges Equipment Possibly Caused California's Largest Fire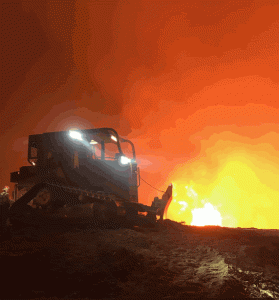 CAL Fire TCU Bulldozer Working At Thomas Fire

View Photos
Ventura County, CA — Southern California Edison admits its equipment may have ignited last year's massive Thomas Fire that killed a firefighter with ties to the Mother Lode.
Utility officials went on the record today revealing that it is a strong possibility that its electrical equipment likely sparked the flames at one of the blaze's two ignition points. The company says witnesses reported flames erupting near Edison power poles on December 4th of last year. Dozens of lawsuits allege the same theory, but the statement marks the first time that the company acknowledged its connection.
As earlier reported here, the Thomas Fire scorhed 281,893 acres when it was contained in mid-January of this year. It claimed two lives including a CAL Fire firefighter from San Diego, 32-year-old Cory Iverson who had worked at the Columbia Air Attack base for a year in 2015.
A multi-agency investigation that will determine the fire's official cause continues with no time frame given as to when that official word could come.