Murder Trial Date Coming For Brother Of Slain Local Woman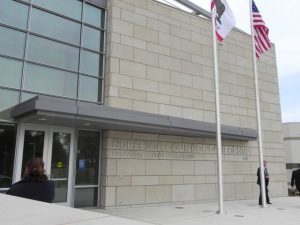 Calaveras County Superior Court

View Photos
San Andreas, CA – The trial date may be coming soon for a man accused of murdering his sister in her San Andreas apartment and then absconding with her truck to Nevada.
According to the Calaveras County District Attorney's Office, Nov. 9 is the next court appearance for Sean McGeough, who has been in custody for the past 15 months since authorities arrested him in the Reno-Sparks area on outstanding related warrants.
McGeough, who had been living in a San Diego transient community before arriving in Calaveras County,  is accused of the September 2016 murder of Stephanie McGeough. A resident of Creekside Apartments. Sheriff's officials discovered her body when called to her unit to do a welfare check.
As reported here, even while autopsy results were pending, sheriff's officials were treating the case as a homicide and initiated a broad search for a silver 2004 Chevrolet Tahoe registered to the victim. The vehicle, as reported here, was recovered shortly afterwards in the Sparks-Reno, Nevada area.
At preliminary hearings last fall McGeough was assigned a public defender. The DA's office notes that activities that have extended the pre-trial process have included a change in McGeough's primary defense attorney due to that person leaving the public defender's office, and expert witness review and testimony scheduling conflicts.
Following McGeough's most recent court appearance earlier this month and the determination that an earlier trial date of Nov. 7 would have to be moved out, Clarke Broadcasting talked with Deputy District Attorney Brad Jones, who noted the processes involved and his office's efforts to reschedule a new date for the trial. At this point he estimates it will be early in the new year.