Third Mokelumne Hill Home Robbery Suspect Detained For Stockton Court Date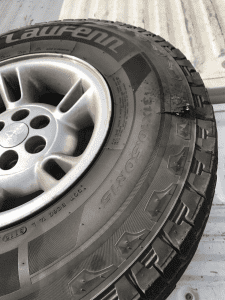 Tire shot out during alleged robbery in Mokelumne Hill Oct 23 2018

View Photos
San Andreas, CA – A third alleged robber arrested in connection with a home invasion in Mokelumne Hill this week is cooling his heels in a nearby jail on separate charges.
Today, CHP Delta Regional Auto Theft Team (RATT) officials shed some light on how 31-year-old Michael Kevin Sauve of Lodi was able to hotfoot it from Martell to Stockton following an alleged home robbery and car chase into Amador County two days ago. Not to mention evade the subsequent three-and-a-half hour lockdown of the area after he fled the green Mustang he and two other suspects were in as CHP officers pulled it over on Highway 88.
Sitting in a San Joaquin County Jail cell with no bail, Sauve awaits arraignment tomorrow on charges of theft and possession of a truck apparently used as an escape vehicle from about a quarter-mile away of where he fled into the Stockton area. He also has outstanding warrants for vehicle theft.
Fleeing Fugitive Finds Keys On The Floorboard 
As we reported here, the CHP located Sauve yesterday sometime in the noon hour. RATT officials add today that they alerted to the possibility of finding him once they spotted a stolen gray Ford F350 pickup with paper plates and other identifying markers reported missing Tuesday from a business close to Highway 88. The location of the theft was the parking area at Amador Steel, officials confide, adding that the truck keys were conveniently left on the floorboard.
After surveilling Sauve for a brief time, RATT officers followed him and made a traffic stop as he pulled into a rural driveway in southeast Stockton. Although Sauve bolted and ran for about 400 yards, he reportedly gave up and submitted to arresting officers.
RATT officials say they are uncertain as to when Sauve will transfer to Calaveras County Jail for booking on the Mokelumne Hill alleged robbery-related charges, acknowledging those are more serious and include one or more fired gunshots.
Currently jailed in Calaveras in connection with the Moke Hill incident on $245,000 bail each are 52-year-old James Robert Lloyd Coit of Mokelumne Hill and 36-year-old Heather Jean Ausa Grimes of West Point. They both face felony burglary, robbery, conspiracy, and assault with a firearm on a person charges. Coit was also booked for unauthorized non-agricultural burning and burning without a permit, both misdemeanors.