Update: Most Power Restored In Calaveras County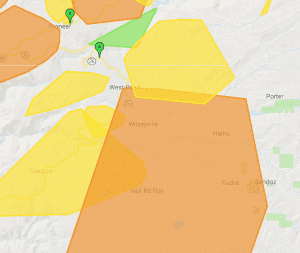 Power Outages in Calaveras County

View Photos
Update at 5:30 p.m.: Most of the power has been restored to the several thousands of PG&E customers that were without lights since Sunday in Calaveras County due to high winds creating fire concerns. The electricity has been turned back on for all impacted in Wilseyville, but still without power are nearly 1,500 customers in Glencoe, Railroad Flat and West Point. The company has pushed that repair time to the seven o'clock hour.
Update at 4:30 p.m.:  PG&E now estimates that most of the outages in Calaveras County will be restored before 6 p.m. However, the lights are not expected back on until the seven o'clock hour for 143 customers in the Wilseyville area.
Update at 1:30 p.m.: PG&E has pushed back the restoration time from 1 p.m. to between 4 and 5:30 p.m. for most of those without power in Calaveras County due to the utility shutting off the power due to high winds creating fire concerns. Even though the winds have let up spokesperson Brandi Merlo explains, "When we shut power off to an area, we're required to go back an survey every foot of that line to ensure that when we turn the power back on it is safe to do so. We've really been focusing on patrolling those lines and we have found some wind related damage in those areas where we shut the power off. We are working to make those repairs and complete those inspections to get power back up by the end of the day."
Further explanation on the company's new strategy to prevent wildfires is below.
Original post at 7:15 a.m.: West Point, CA — While many areas of Northern California in areas of high fire risk have now had power restored, there are still many without electricity in Wilseyville, Glencoe, Railroad Flat and West Point.
We reported yesterday it is part of a new strategy implemented by PG&E. In response to the deadly wine country fires last year in Napa and Sonoma counties, the company is now proactively turning off power in areas of high wind and fire risk. 60,000 customers were without power yesterday across multiple counties, but a majority have now been restored. PG&E estimates the remaining Calaveras outages, a couple thousand customers, will be restored by one o'clock this afternoon.