Second Weekend In October Events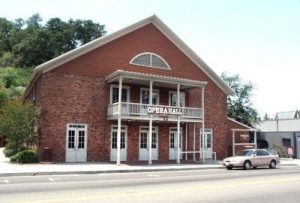 Sonora Opera Hall

View Photos
The second weekend in October features several popular annual autumn events.
As detailed here, Stage 3 Theatre Company is hosting preview night at Sierra Repertory Theater's dress rehearsal presentation of Intimate Apparel tonight, October 11 at 6PM. Intimate Apparel opens this Friday with evening shows at 7PM on Friday and Saturday and on Wednesday, Thursday, Saturday and Sunday at 2 PM through October 28.
Saturday morning is the Young Ladies Institute (YLI) Patricia 79 fundraiser pancake breakfast.  Ticket information is in their event listing here.
At the Aronos Club in Sonora Saturday morning there will be a Writing Workshop.
Railtown 1897 is offering weekend Harvest Haunt Express train rides and the Sonora Sunrise Rotary will be hosting Barrels Brews and Bites, a Tasty Event! from 2:00 to 5:00PM, also at Railtown 1897. Details are here.
Saturday and Sunday is the 34th Annual Harvest FestiFall at Columbia State Historic Park. The event is sponsored by Columbia Chamber of Commerce.
Every Saturday in October Indigeny is hosting the Annual Harvest Festival. The event has hayrides, a corn maze, pumpkins, organic apples, local food vendors artisan crafters and face painters. Details are here.
At the Sonora Moose Lodge meet the Sonora Moose Family at their Open House.
From 2PM to 8PM at the Sonora Opera Hall enjoy a Band Stand Concert featuring Sourdough Slim, The Risky Biscuits, Lucky CuZn Brass Band, Faux Renwah. Band Stand is a presentation of Rock-In-Road, the non-profit fundraising partner of the Strawberry Music Festival that helps local elementary and high schools. Funds help pay for the music programs including instrument donation, repair, purchase and other supplies. The first fundraiser, in 2017, raised over $10,000 for local schools. Ticket information is here.
October 13 is the 97th 2nd Saturday Art Night in downtown Sonora.
Sunday, October 14 is Sonora Bach Festival's Youth Concert. The concert starts at 3:00 in the Church of the 49ers.