Smoke Visible Coming From Wards Ferry Road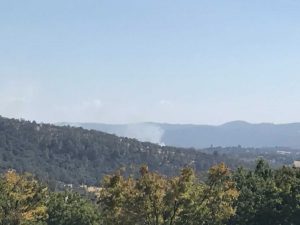 Smoke from CAL Fire training in Tuolumne County near Wards Ferry Road

View Photos
Sonora, CA — Many in the community have been concerned today about smoke billowing from the area of Wards Ferry Road south of Highway 108.
Clarke Broadcasting has received multiple phone calls, and as reported earlier this week, CAL Fire is leading a three day training exercise at the Sardella Ranch. Periodic smoke will be visible through Thursday. Around 80 acres of grass and oak understory are being ignited. The training is designed to instruct fireline supervisors from around the state how to plan and conduct complex firing maneuvers. When correctly done, these operations help suppress a wildfire by starving it of available vegetation.
There are six engines, two crews and a bulldozer on scene. CAL Fire reports that everything has been going smoothly.