CAL Fire Training This Week To Focus On Rangeland Near Sonora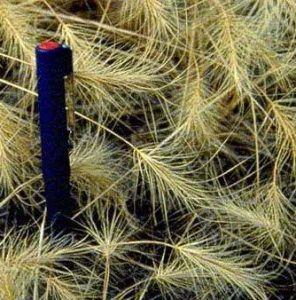 USDA Forest Service image of medusahead thatch with pen for scale

View Photos
Sonora, CA — Live, fighting fire with fire training sessions planned for this week south of Highway 108 will at the same time wage war on a noxious weed invader.
According to CAL Fire officials, the three-day training schedule begins tomorrow at Sardella Ranch, located on Wards Ferry Road about seven-and-a-half miles southeast of Sonora. Hours will run through Thursday from 10 a.m. until 5 p.m. each day, so do not be surprised if you see smoke in the skies near the area. Officials say the activities will involve six fire engines, two fire crews and a bulldozer.
This training, designed to instruct fireline supervisors from around the state in planning and conducting complex firing maneuvers during wildland fire suppression operations, will be providing instruction on proper ignition and control techniques for fires lit outside the perimeter of an approaching wildland fire. When correctly conducted, these operations help suppress a wildfire by starving it of available vegetation.
In this case, if conditions are conducive, the activities will focus on burning about 80 acres of grass and oak understory. Medusahead rye, an annoying weed with little nutrition value that overtakes other grasses, has cropped up within the involved rangeland.
Historic records trace the invasive species back to the Pacific Northwest, where it arrived sometime in the mid-1800s, probably in the bedding or coats of European livestock. Slow hot fire treatments after medusahead seeds ripen but before they drop can reportedly reduce medusahead up to 90 percent the following year if revegetation occurs to prevent it from regaining dominance.