Cause Of Death Determined For SCC Firefighter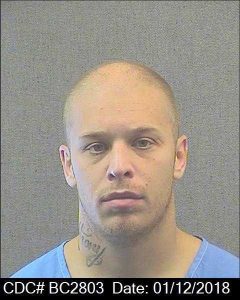 Anthony Colacino

View Photos
Jamestown, CA — The Tuolumne County Coroner's Office has released the cause of death of a 33-year-old inmate firefighter that passed away this past spring.
We reported in April that 33-year-old Anthony Colacino was taking part in an early Saturday morning training hike. After he collapsed he was carried to the Sierra Conservation Center Fire House where inmate firefighters attempted life saving measures until an ambulance and first responders arrived. It was later learned that Colacino died after going into sudden cardiac arrest caused by a disease of the heart muscle.
Tuolumne County Sheriff's Office spokesperson, Sgt. Andrea Benson, says, "The official cause of death is Fatal Cardiac Arrhythmia due to Cardiomyopathy with contributing factors of Intramural Coronary Artery Disease."
Colacino collapsed at 7:50am on April 21 and was pronounced dead at the prison nearly 50 minutes later, at 8:41am. He was a newly assigned inmate firefighter.